Get iBox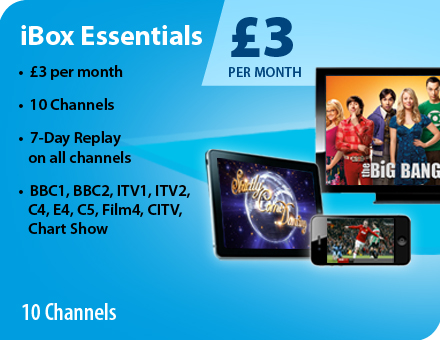 More Information
Our 10 most popular channels, at a low low price.
Includes BBC1, BBC2, ITV1, ITV2, C4, E4, C5, Film4, CITV, Chart Show
Includes 7-day playback on all 10 channels.
Watch on the web with Windows 10 PC or Mac.
Watch on iPad, iPhone, Android phones & tablets using our apps.
For Home TV, use Apple TV, Fire TV, Chromecast or Android set-top-box.
We recommend you use our app to test if your Android device is compatible with iBox.
iBox uses broadband to receive TV. You are responsible for any extra data charges imposed by your Internet provider for high data usage.
iBox is only available in the United Kingdom.
Pricing & Conditions
First month free !
Monthly fee for TV service: £3
(payable in advance each month)
No contract - cancel anytime.
Payment by PayPal.
Automatic payments taken every month.
Our pricing does not include cost of broadband, which must be paid to your ISP.
Full details of our terms & conditions are available here.